Materna Information & Communications SE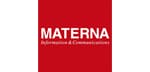 As a leading IT consulting company, Materna employs more than 3,200 staff worldwide and achieved a group turnover of EUR 433 million in 2021.
Materna is a full service provider delivering a complete range of services for the premium segment: from consultation and implementation through to operations.
Customers include IT organizations and user departments in companies and the public sector. The group also includes various subsidiaries.
Overview
| | |
| --- | --- |
| Region | DACH |
| Product focus | DOMEA |
| Type of partnership | Services;Support |
| Industry focus | Professional Services;Public Sector |
| Partner level | Silver |
Products and Services Overview
The Public Sector business line is dedicated to serving customers in the public sector by helping public organisations and administrations to carry out their tasks on behalf of the state and by supporting them throughout the process of digital transformation.
Materna helps with the conceptual development and implementation of portal solutions, the optimization of administration tasks (EGovG and OZG implementation) as well as with the introduction and migration of e-file solutions, the deployment of electronic forms services, extending IT-based personnel management systems and solutions, and in the implementation of customer-specific specialist procedures.
Our interdisciplinary digitalization expertise includes innovative aspects such as Artificial Intelligence and chatbots, blockchain, augmented and virtual reality, data science, IoT and the related topics of cyber security, privacy, accessibility and UX
Materna supports public administration organisations throughout all the different phases along the value adding chain. Projects range from consulting services to operations and from delivering IT infrastructure to the development of specialist processes, process modelling, change management and modern IT training solutions.
Materna also delivers IT services such as managed services, infrastructure management and automation, as well as cloud operating scenarios.
The public sector is one of the most important sectors for the company. With more than 750 specialist staff with in-depth public sector know-how, Materna has been very well-positioned in this field for many years. Materna has implemented well over 1,000 projects for the public sector which include developing extensive specialist procedures, e.g. for the German customs authority and the judiciary, implementing internet and intranet sites for multiple national and state organisations, and working within the field of internal and external security.
Corporate Address
Vosskuhle 37
Dortmund
DE
44141