General Networks Corp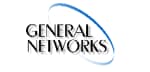 General Networks Corporation delivers technology consulting services for customers who need to manage and process critical business content. We support content management applications on OpenText and Microsoft platforms. Our engagements require a combination of many disciplines and skill sets. If our clients need capabilities not available from off-the-shelf software, we will build them or help them build them. During the past 22 years, General Networks has managed the design and implementation of document handling technologies that serve over a million users at 95 organizations, including major entertainment and utility companies, multimodal ports, and state regulatory agencies. We offer extensive business expertise designing and deploying electronic document and records systems for hundreds of users to hundreds of thousands of users. We enable our customers to speed up the adoption of their OpenText and SharePoint applications across the enterprise with well-proven tools that simplify storing, retrieving, and scanning documents. We bring substantial expertise with horizontal and vertical business applications leveraging content management technologies that we have developed.
Overview
| | |
| --- | --- |
| Region | US |
| Product focus | SALT - eDocs |
| Type of partnership | Reseller |
| Industry focus | Utilities;Distribution & Transportation;Media & Entertainment;Public Sector |
| Partner level | Registered |
Products and Services Overview
General Networks has had a 22-year relationship with legacy OpenText eDOCS products, going back to the initial release of the product 1990. We have been working with the OpenText Content Server platform since 2006. Other key vendor partnerships in the content management space include: Microsoft (SharePoint and infrastructure products), Kofax, Inc. (document capture and processing), KnowledgeLake (document capture for SharePoint), K2 (workflow), DocuSign (electronic signature). We work with vendors of complementary technologies to support security, integration, workflow, compliance, and other functionality.
Corporate Address
3524 Ocean View Blvd
Glendale
CA
US
91208-1212