fme AG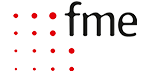 Digitalization enables new ways of dealing with existing businesses and creates totally new business models. We believe in the opportunities of digital transformation and love to help our clients worldwide maintain and create competitive businesses. Our devoted consultants optimize or challenge our clients' business models through existing and new technologies and advise them on the necessary cultural change in their company. Cloud, Business Intelligence, Social Business Collaboration and Enterprise Content Management technologies in combination with custom software development and the ability to operate our clients' systems 24x7 help us to add value to our clients' transformation process. The industry focus lies on solutions for life sciences and industrial manufacturing. Experienced in managing global projects we provide vendor independent consulting services and access to our cost-effective near-shore resources where advisable. For more than 15 years, renowned corporations like Boehringer Ingelheim, BMW, CSL Behring, Dea Deutsche Erdoel, EagleBurgmann, Medtronic, Sanofi-Aventis and Volkswagen have relied on our experience and competence.
Overview
| | |
| --- | --- |
| Region | DACH |
| Product focus | ECM - Content Lifecycle Management;ECM - Enterprise Archive;ECM - Captiva;ECM - InfoArchive;ECM - LEAP;ECM - Clinical Archiving;ECM - Documentum Platform;ECM - ECD Value Office Solution: Lifesciences;ECO - SAP - Extended ECM;ECM - OpenText Application Content Management |
| Type of partnership | Services;Technology |
| Industry focus | Automotive;Financial Services;Insurance;Manufacturing;Aerospace & Defense;Utilities;Energy;Engineering & Construction;Healthcare |
| Partner level | Silver |
Products and Services Overview
fme incorporates many years of project experience in the field of migrating applications, content and data. Our experts have developed best practice methods and products to minimize project costs. Customers can save 60% in costs and 80% in project duration time when using our product migration-center compared to developing their own scripts and frameworks. migration-center is a content migration platform which carries out highly automated, large volume migrations without system downtime. It is a 100% out-of-the-box software, fully documented, easy to deploy and needs no additional programming or scripting effort. migration-center is on the market since 2005 and has proven its quality in hundreds of migration projects around the world, even in highly regulated environments.
Corporate Address
Wolfenbütteler Straße 33
Braunschweig
DE
38102