Counterpoint Consulting, Inc.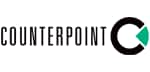 Counterpoint delivers custom software solutions which enable our clients to automate their business, turbocharge their workforce, engage their customers, and ensure compliance. We provide US-based software development and consulting services on leading commercial and open source Business Process Management (BPM) and Content Management platforms. Our skilled team of consultants and engineers are specialists in Enterprise Information Management -- delivering solutions which integrate best in class process automation, content management, analytics, and machine learning. These integrated technologies provide the foundation we leverage to help our customers achieve digital transformation, maximize productivity, and ensure compliance. Our track record of over ten years delivering successful software solutions to customers across North America has made us the go-to provider of OpenText EIM application development and consulting services.
Overview
| | |
| --- | --- |
| Region | US |
| Product focus | BPM - Basic Workflow - Accounts Payable;ECM - Content Lifecycle Management;BPM - BPMSuite - MBPM;BPM - Dynamic Case Mgmt (Case360);BPM - Accounts Payable;BPM - BPMSuite - Process360;BPM - Ent Arch & Bus Process Analysis;BPM - High Volume Imagining and Workflow;BPM - Windows Imaging;SALT - Actuate;BPM - Smart Process Applications;BPM - Cordys;BPM - Basic Workflow - Int Doc Mgmt;BPM - Basic Workflow - Records & Docs;BPM - Basic Workflow - Trans Cont Mgmt |
| Type of partnership | Services;Technology;Reseller |
| Industry focus | Financial Services;Legal;Aerospace & Defense;Computer Software;Professional Services;Public Sector |
| Partner level | Silver |
Products and Services Overview
OpenText™ RFx Center is a comprehensive bid management solution that enables organizations to streamline their procurement processes, monitor spend, manage vendors, and automate the flow and capture of procurement information at the enterprise level. ALTO is the leading UI framework for AppWorks. It enables your development team to build user interfaces that meet your specific requirements, while automating most of the actual code creation. Applications built using ALTO are also responsive by default, eliminating the need to develop native mobile apps, and ensuring that your users can complete their work either at their desk or on any modern mobile device.
Corporate Address
8255 GREENSBORO DR
McLean
VA
US
22102-4947