ASSECO SEE D.O.O. BEOGRAD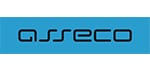 Asseco SEE has been recognized as a long-standing, reliable and acknowledged partner in developing services for the financial industry, public sector and public social system. Asseco SEE follows and provides novelties in IT, so as to support growth and progress of its clients. In addition, Asseco SEE also keeps up with business trends in the world and adjusts its solutions to these requirements and globally recognized standards. Asseco SEE is present in the territory of former Yugoslavia (Serbia, Montenegro, Bosnia & Herzegovina, Slovenia, Croatia), Romania, Bulgaria, Turkey and Albania.
Our competitive advantage in ICT solution provision refers to the fact that we offer complete solutions that are well known for their security, flexibility, and simple implementation. Our portfolio is multi-platform, modular and highly customizable designs that enable the rapid development and deployment of new services for clients. Asseco SEE is a part of Asseco Group, the largest IT company group in Central Eastern Europe with more than 17,000 employees worldwide. The Group has strong focus on delivering comprehensive IT solutions for Public Administration. Asseco Group operates in most of the European countries as well as in Israel, USA, Japan, and Canada. Asseco Group companies are listed on the Warsaw Stock Exchange, Tel-Aviv Stock Exchange as well as on the American NASDAQ Global Markets.
Overview
| | |
| --- | --- |
| Region | Central & Eastern Europe |
| Product focus | ECM - Documentum Platform |
| Type of partnership | Support |
| Industry focus | Financial Services;Insurance;Telecommunications;Education;Aerospace & Defense;Computer Software;Utilities;Public Sector;Computer Hardware |
| Partner level | N/A |
Products and Services Overview
For its system integration approach, Asseco was awarded by EMC in year 2013, specifically for the solution AsePA Correspondence Management, a software solution for management of office documents, customized for public sector. The Innovation Award 2013 was published on the conference EMC World 2013. ASEPA CM Solution is fully in compliance with e-Government principals, whose main purpose is faster and more efficient functioning of public services. Based on global standards, a unique measure that an institution has made a progress is their usage of electronic services in day-to-day business. Experience and domain knowledge in the financial, public and social sector is of crucial importance for understanding, designing and automating business procedures. Designing business procedures requires full understanding of each individual step in realization of business processes.
Since Asseco SEE has had experience in development of specialized software applications and products, as well as experience in implementation of end-to-end solutions, for twenty-five years, we can say that, in this domain, we can respond to our clients at a high-quality level. Asseco SEE has a significant experience in implementation complex IT projects funded by EU, WB and IMG, specifically in capacity building of public administration of Serbia by providing technical assistance. Our proven experience in development and implementation of software for debt management for finance sector helps us to understand better the ToR requirements and to propose the most suitable software solution.
Corporate Address
MILUTINA MILANKOVICA 19G
Belgrade
RS
11070