Spotline, Inc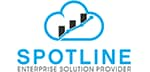 Spotline is an enterprise software and services firm focused on Information Management and Data Analytics. Our software and services are geared to create industry solutions using advanced data analytics and cloud technologies. Spotline is focused on delivering customer value through its products and services taking advantage of its deep expertise in industry-specific business processes and the advancement of technology in data analytics.
Spotline is committed to investing in building and improving the products for the target customer base to drive the value through digital transformation. Key solutions that Spotline offers are :
VIMBots
Supplier Portal for VIM
Information management strategy
Quality Document Management System for LifeSciences (Documentum)
R&D system for LifeSciences (Documentum)
Overview
| | |
| --- | --- |
| Region | US |
| Product focus | ECM - Content Lifecycle Management;ECM - eMail Solutions;ECM - Enterprise Archive;ECM - Learning Management;ECM - Mobile Solutions;ECM - Captiva;ECM - Capture & Recognition;ECM - InfoArchive;ECM - LEAP;ECM - Clinical Archiving;ECM - Documentum Platform;ECM - ECD Value Office Solution: Healthcare;ECM - Document Sciences;ECM - ECD Value Office Solution: Energy & Engineering;ECM - ECD Value Office Solution: Lifesciences;ECM - Kazeon;ECM - PIXEL;ECM - OpenText Application Content Management |
| Type of partnership | Services |
| Industry focus | Financial Services;Insurance;Telecommunications;Computer Software;Utilities;Energy;Healthcare;Media & Entertainment;Professional Services;Public Sector;Computer Hardware |
| Partner level | Silver |
Products and Services Overview
VIM Bots is a SaaS application that allows any Vendor Invoice Management (VIM) customer to instantly add chatbots as virtual team members to your AP team. By off loading repetitive manual activities, VIM bots increase productivity of your AP team.
Capabilities : Invoice Status checking, Natural Language Processing, Pre-Built integration with VIM.
Supplier Portal for VIM can streamline end-to-end AP invoice processing operations and reduce manual work. Supplier portal has integration with SAP and VIM and will significantly reduce invoice exceptions and improve your supplier relations.
Capabilities: invoice management, procurement help desk, PO Flip, ChatBots, Vendor Registration, ASN order confirmations.
Corporate Address
226 Airport Parkway, Suite 450
San Jose
CA
US
95110-3701