TEKA SYSTEMS BUSINESS SOLUTIONS SINGLE MEMBER SA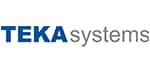 TEKA Systems S.A. was established in 1975 and for the last four decades is a leading technology firm in the Balkan and the wider geographic area. Today, TEKA Systems is one of the largest SAP consulting firms in South-East Europe and is a unique partner for every demandable and multidisciplinary program requiring diversification of experts and experience in implementation of small or large scale projects. Through its numerous successful SAP and Opentext implementations, TEKA Systems has gained deep knowledge of several sectors' business best practices, accuracy in Business Process Management procedures, effective interaction between all stakeholders and of course efficient integration of all the above.
The Company offers specialized techniques and consulting services in computer science, digital transformation, high technology and industrial plants to organizations of the private and public sector not only in Europe but also in America and Australia. Because of its broad experience, TEKA Systems is a pioneer in many business sectors such as in Manufacturing, Information Technology, Construction, Telecommunication, Pharmaceutical, Retail, among others. TEKA Systems has participated in various projects in several sectors and industries offering its services to some of the biggest and most prominent -Greek and multinational – companies. It has essentially and successfully contributed to the exploitation of its customers' opportunities, while ensured the Return on their Investment. In addition, it is worth to emphasize the fact that TEKA Systems has participated in a large number of research programs pointing out its interest in the field of research and its intense interest in planning and developing new products and services that will contribute decisively to its development.
The Company's function is based on a dense and complex network of seven (7) principles: Professionalism, Coherence, Quality of end products and services, Investment in knowledge and know-how, Reliability, Continuous training and progress, Research and Development. The main objectives of the company are the provision of excellent service towards its customers and high-quality services that cover sufficiently its requirements while assuring its associates for satisfactory career and professional progress.
Overview
| | |
| --- | --- |
| Region | Southern Europe |
| Product focus | ECO - SAP - Archiving;ECO - SAP - Digital Asset Management;ECO - SAP - Document Access;ECO - SAP - Document Presentment;ECO - SAP - Employee File Management;ECO - SAP - Extended ECM;ECO - SAP - Invoice Capture Center;ECO - SAP - Invoice Management;ECO - SAP - Travel Receipts Management;ECO - SAP - Portal Content/Site Managemt |
| Type of partnership | Services |
| Industry focus | Manufacturing;Retail;Telecommunications;Consumer Packaged Goods;Utilities;Distribution & Transportation;Engineering & Construction;Healthcare;Professional Services |
| Partner level | Silver |
Products and Services Overview
The solutions proposed, cover the following OpenText areas:
Extended Enterprise Content Management, xECM
Business Process Management
Data Capture and Form Processing
Document Scanning and Indexing
The consulting services offered by TEKA Systems encompass integral solutions to meet any demands of a business. Our deep and long experience in the SAP world ensures the successful design and implementation of projects related to xECM within SAP environment (SAP S/4HANA, SAP SuccessFactors, etc)
Corporate Address
62 ETHNIKIS ANTISTASEOS STR
CHALANDRI
GR
152 31