Module Suite for OpenText Content Suite & Extended ECM
By AnswerModules Sagl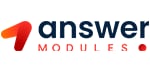 Module Suite for OpenText Content Suite & Extended ECM provides all tools necessary to rapidly deliver tailored processes and applications on top of ECM platform.
Module Suite extends and enhances Content Suite capabilities in key areas such as advanced forms, external integrations, workflows, automation and user experience.
Module Suite enables businesses to rapidly design and deploy focused applications and new business scenarios within Content Suite & Extended ECM. Its efficient low-coding approach reduces the time, effort and cost associated with both development and on-going maintenance.
Module Suite allows developers to quickly create personalized solutions and external integrations without any knowledge of OScript or WebReports. Thanks to its ground-breaking technology, Module Suite was awarded two years in a row (OpenText Solution Extension of the Year 2020; OpenText EMEA Innovation / Technology Award 2019)
Details
Product Highlights :
• Automate end-user and administrative tasks regardless of their complexity
• Readily interchange data and services with external platforms, even custom or legacy systems
• Craft advanced custom forms (mobile & offline too)
• Streamline workflows and extend the capabilities of the Content Suite workflow engine
• Tailor and simplify the Content Suite UI to meet specific business needs
• Seamlessly integrate Content Suite with DocuSign, Microsoft Teams, OpenText Core Share & Core Signature & more Value Proposition
• Fewer clicks and streamlined interfaces with concise data increasing user satisfaction and productivity
• The use of standard coding languages ensures that developers are productive within hours, not months
• Safeguard and extend investments made on Content Suite Platform
View the Module Suite in action: www.showcase.answermodules.com