OpenText CAPA for Content Suite/Extended ECM
By Kinematik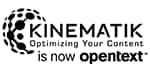 OpenText CAPA for Content Suite/Extended ECM automates the CAPA process in a single system while utilizing the document management and security features of Content Suite.
Workflows provide standardized CAPA review and approval processes in a central location with dedicated workspaces to capture all CAPA findings.

CAPA for Content Suite at a glance

Single system for all CAPA to Increase efficiencies and improve compliance.
Pre-configured, independent system workflows provide defined processes and a systematic way of capturing your organization's CAPAs
Defined processes within CAPA include Incident Management, Investigations, CAPA Escalation, CAPA and Effectiveness Check
CAPA history and trends to report and understand all CAPA activities.
Easy access and search for documents related to each CAPA and see a full audit trail of all activities.
Out of the box configurable reports and dashboards to show real-time data.
Notifications ensure that employees assigned CAPA tasks are notified using internal or email notifications.
Complete end-to-end visibility of your CAPA processes to understand the who what and when of each CAPA.