OpenText Project Management for Content Suite/Extended ECM
By Kinematik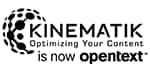 OpenText Project Management for Content Suite/Extended ECM provides industry-standard, collaborative and advanced project management tools for Content Suite.
OpenText Project Management for Content Suite/Extended ECM solution integrates projects and tasks with enterprise documents and records in a single system while utilizing the document management and security features of Content Suite.
Project Management at a glance
Advanced project management tools including Project Management, Manual or Automatic scheduling, Resource Utilization, Critical Path and Baselines.
Manage, track and integrate all projects, project tasks and related documents in a single system.
A central database for all Enterprise project data.
Integrate key documents directly into project tasks, phases or deliverables.
Update project schedules and resourcing using an interactive Gantt.
Access real-time reports and dashboards using out-of-the-box dashboards on Costs, Resources & Scheduling.
Configure new dashboards using WebReports.
Manage resources efficiently with Resource Scheduling & Collaboration tools.
Assign tasks to 3rd parties / external users of Content Suite.
Search and retrieve all relevant and linked project-related documents.
Utilize Content Suite audit and version controls for all activities.
Stage gate automation using Content Server workflows initiated directly from the project.
Drive business value from project data.