OpenText Electronic Lab Notebook for Content Suite/Extended ECM
By Kinematik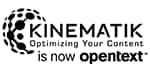 The OpenText Electronic Lab Notebook (ELN) for Content Suite/Extended ECM by KineMatik helps researchers capture, manage, find/reuse research data faster
Share data from multiple research projects and collaborate across local and global research sites with the OpenText Electronic Lab Notebook from KineMatik. Protect Intellectual Property and support compliance with regulatory GxP guidelines.
ELN at a glance
One of the industry's most powerful search engines
Customizable templates for experiments to save time, improve consistency and facilitate re-use of experimental data Workspaces that are intuitive and quick to use with smart icons and drag & drop functions, navigate anywhere in 1 - 2 clicks
Any type of file or data can be imported into the ELN. Clean integration with MS Office to create or edit in Word or Excel. Integration to lab systems like LIMS
Drag and drop items into the experiment workspace
Search using full text, metadata or natural language queries
Structure and reaction searching. Boolean searching.
Search through documents and embedded files.