Safe - Workplace Playbook Management
By Kinematik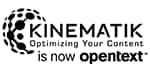 Whether creating an original playbook or utilizing industry sources, Safe-Workplace Playbook Management solutions manage content to drive accountability, communication, and compliance.
Maintain workplace compliance and keep workers safe with access to the most up-to-date safe-workplace playbook.
Put trusted information at the center of a coordinated, digital approach for safe-workplace plans and protocols by creating a centralized playbook. With Safe-Workplace Playbook Management from OpenText™, organizations and their partners can ensure adoption of operational and health and safety processes by making information easy to find, reliable, and efficiently managed. Manufacturers can digitize volumes of content, creating workflows to automate distribution and enabling users to work with content from whichever device or system is most efficient.
Details
Safe-Workplace Playbook Management components OpenText™Extended ECM Platform OpenText Document Training for Content Suite by KineMatik OpenText™ Document Change Control for Content Suite by KineMatik Optional add ons: OpenText™ Blazon™ OpenText™ Core Share OpenText™ Core Signature